If you are a manga fan, you probably know how frustrating it is to find the ones which you want to read in high quality as well as with official English translations.
Thankfully, there are some completely legal, official manga websites, platforms, and apps that you can use to enjoy premium-quality translations and copies of your favorite manga, completely legally, and some which offer free manga too.

Read Manga Online
Here are the best ways and places to read manga online legally and with good quality translations in English.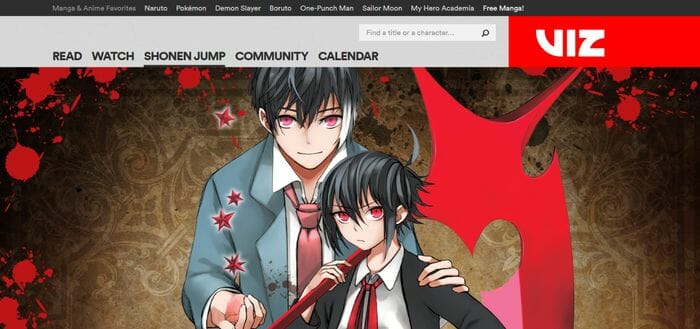 Whether you have been reading manga for years or you are a newbie to the genre, you have most probably heard of Weekly Shonen Jump.
This is the longest-running and the most popular and bestselling weekly manga magazine in Japan and the world.
It features some of the greatest manga volumes in history, including One Piece, Hunter x Hunter, Boruto, World Trigger, Sailor Moon, One-Punch Man, Pokémon, Naruto, My Hero Academia and thousands more.
Thankfully for all manga fans, especially those who do not live in Japan, today Shonen Jump is available for reading manga online too.
It is available for computer access, and there are also Android and iOS apps that will allow you to access your favorite manga volumes and read them for a symbolic fee starting from $1.99 per month directly on your phone, tablet, or other internet-connected devices.
The platform offers to send you 3 chapters of your favorite manga chapters per week and new chapters of the other manga, which is published in the Weekly Shonen Jump, directly to your email if you subscribe to the service.
Plus, it offers English translations for the newly released Japanese chapters at the same time as they come out in the magazine.
So, if you are serious about manga reading, then Shonen Jump is the website to use.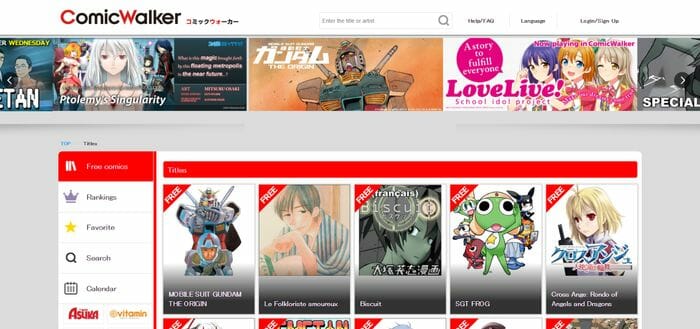 Comic Walker is a web-based service offered by one of the biggest and well-known manga publishers, Kadokawa. The publisher decided to provide completely free access to all of its manga volumes after getting fed up with piracy attempts and other infringements.
This is perfect news for all manga fans in Japan and around the world because the website provides access to some of the most popular mangas of all time, such as Mobile Suit Gundam, Sgt. Frog, Melancholic, and others. Plus, it is a website where anyone can read manga online free of charge.
Not only is the access completely free, but also you can access and read the manga chapter of your choice without having to register or log in.
Still, if you have the patience and desire to register for the manga website, you will receive some neat features such as saving your favorites in your personal favorite library and also receiving notifications when a new chapter or new issue is released.
The website where you can read free manga online is pretty straightforward and has an English language option and translations.
It is definitely one of the great places to read online manga legally and providing the ability to find free manga and without paying a cent.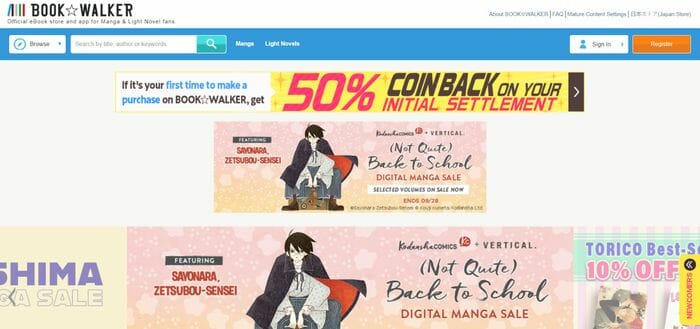 BookWalker is a Kindle-style legal digital manga shop on the world wide web.
The Japanese site contains a huge variety of famous and not-so-popular manga titles, including Attack on Titan, Overlord, No Game No Life, and others issued by publishers like Viz, Kodansha, Yen, and more.
It is similar to buying eBooks at the Kindle store and is the web platform to go to if you want to buy the highest quality and completely legal digital manga from the leading publishers of Japan.
You can do this on your computer or download the app on your phone or another mobile device, and proceed to browse through the store, check the new releases and buy as many of the manga or light novels you are interested in as you want.
The chosen title will be added to your account's catalog, where it will be available forever, providing you with the ability to re-read your comics books again and again.
The application is available for Android and iOS.
The Japanese website offers a coin affiliate program, discount coupons, and sales, so there is a huge chance that you can get your preferred manga at an excellent price too.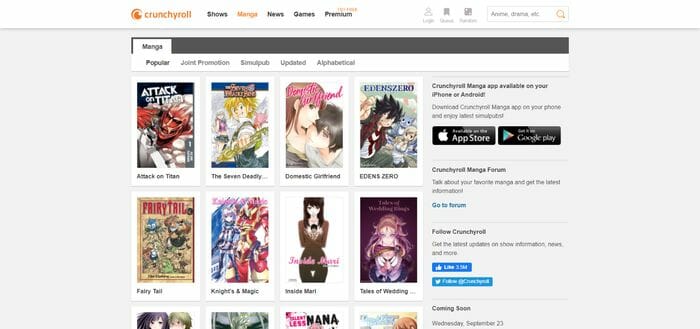 Crunchyroll is possibly the most popular streaming service for legal anime on the internet, but it also offers access to a huge collection of manga.
For a subscription fee of only $7 per month, you will get access to thousands of anime series and online reading of manga titles.
Some of the popular manga chapters and volumes available on this platform include Attack on Titan, The Seven Deadly Sins, Fairy Tale, and many more.
This is the ultimate deal if you are a fan of both anime and manga.
You will get access to the latest anime series and manga chapters at the same time as they are released or published in Japan at Crunchyroll.
The catalog of Crunchyroll with manga is immense, and thanks to its popular, latest, and coming soon menus, users will be able to find new manga chapters in all genres that you may love.
The platform is accessible via Android, iOS, Windows Phone, Chromecast, Xbox, PlayStation, Wii U devices, and apps. It is available in more than ten languages, including American US and British (UK) English.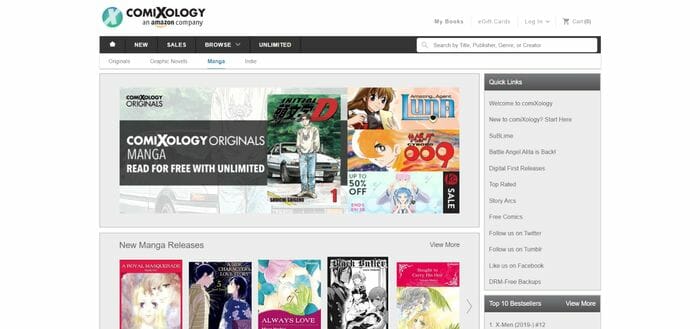 Now owned by retail giant Amazon, Comixology is possibly the top source for reading manga online and all other types of digital comics.
The platform includes a huge collection of many different comics, manga, graphic novels, indie, and originals.
You can subscribe for continuous access to all of the content for a fee of $6 or buy separate volumes, chapters or novels instead. This makes Comixology the best platform both to make one-time purchases and have access to all content.
Some of the popular titles you will find on Comixology include Attack on Titan, Fairy Tale, Lone Wolf and Cub, Sherlock Bones, The Seven Deadly Sins, One Piece, and thousands of more titles suitable for a manga fan of any age.
Apart from having the ability to enjoy your preferred Japanese manga chapters from any device and operating system, you will also have access to a huge collection of other comics, including Marvel, DC, and many more, if you decide to subscribe for Comixology Unlimited.
Other platforms, apps, and websites where you can read manga online for free or with a subscription rate to consider include:
Platforms to purchase digital manga volumes:
Sites for Hentai (Mature) Manga:
Final words
Hopefully, we have helped you find the best platform, website, or app to access and read manga on the web on your computer, mobile device, or game console. Now you will be able to enjoy reading your favorite chapters and volumes and finding new ones to fall in love with.